Posts for tag: teeth whitening
By Orange Sky Dental
October 17, 2018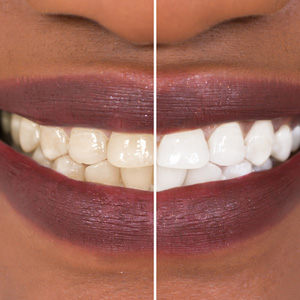 A relatively easy and inexpensive way to improve your smile is to whiten your teeth. In fact, you may even be able to do it yourself at home. Although there are differences between at-home and professional whitening, the former can still be effective.
That effectiveness, though, might be dependent on how well you understand what home whitening can do and what it can't. So before you purchase your kit, here are a few things to know about DIY teeth whitening.
Home kits are safe—when used as directed. Although nothing in life is completely risk-free, home whitening kits are relatively safe. But only if you follow the directions: If you overuse the bleaching solution beyond its intended use, you could wind up with permanent damage to your tooth enamel that can be costly to treat.
Bleaching solutions are relatively mild. Nearly all home kits use carbamide peroxide, a form of hydrogen peroxide, as their bleaching agent. Home kits usually contain no more than 10% of this agent, much lower than professional solutions. Used as directed, this amount of bleaching agent poses little to no risk to dental or general health. On the other hand, the weaker home kit solution does limit the extent of brightness you can achieve compared to stronger professional treatments.
For top results (or certain conditions), consider professional whitening. While you can obtain good results with a home whitening kit, professional whitening provides more precise brightness control and range, and may possibly last longer. That's because your dentist has more advanced techniques and equipment, as well as stronger bleaching solutions. And, if your discoloration originates inside your teeth, a home kit won't help—only a dentist can address that kind of discoloration.
Even if you decide to "go solo," your dentist can still give you advice on what to look for in a home kit, as well as tips for the actual procedure. But whether you whiten at home or let your dentist do it, teeth whitening can take years off your smile and give you a more attractive look.
If you would like more information on teeth whitening, please contact us or schedule an appointment for a consultation. You can also learn more about this topic by reading the Dear Doctor magazine article "Tooth Whitening Safety Tips: Are Bleaching Products Safe?"
By Orange Sky Dental
August 04, 2017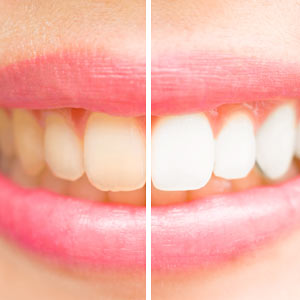 You've been embarrassed for a while now by your yellowed, dull teeth. You're ready for a change.
There's a simple and cost-effective way to make that change: you can temporarily brighten your smile with teeth whitening, possibly at home. But before you try it, you should first have a dental examination to find out if whitening is the right choice for you.
First off, healthy teeth with outer enamel staining are the best candidates for whitening. Teeth and gums with tooth decay or periodontal (gum) disease should be treated first before undergoing whitening. A dental exam will uncover any health issues you may have with your mouth.
In the same vein, you'll want to consider whitening carefully if you have dental work like veneers, crowns or implants. Unlike natural teeth, these non-biological materials won't be affected by the bleaching agent. We can discuss any potential for color mismatch between your whitened natural teeth and your dental work during your examination.
A dental exam can also uncover one other crucial fact — what kind of tooth staining you have. There are two basic types: extrinsic, staining on the outside enamel as we've mentioned earlier; and intrinsic, staining that originates from inside a tooth. The whitening kits you purchase from a store and even some of the whitening techniques we use in the office only diminish extrinsic, not intrinsic staining. To address an intrinsically-stained tooth requires a much more involved, invasive clinical technique only performed by dental professionals.
Finally, a dental examination is a good discussion forum for helping you decide between a home kit and a clinical procedure. While DIY kits are effective for the most part, you won't be able to precisely control the degree of brightness like we can. This could be important if you want a specific shade of whiteness, from a more subtle and natural shade to dazzling "Hollywood" bright. Shade control could also help minimize color mismatch with dental work.
In the end, we want to help you make the best choice for teeth whitening. Even if you decide to pursue whitening at home, we can offer you valuable advice on what to look for when you buy a kit and how to use it. That alone could help ensure you get the new, bright smile you desire!
If you would like more information on teeth whitening, please contact us or schedule an appointment for a consultation. You can also learn more about this topic by reading the Dear Doctor magazine article "Important Teeth Whitening Questions…Answered!"
By Orange Sky Dental
July 05, 2017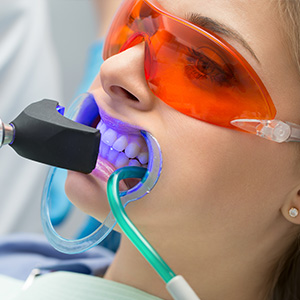 Your teeth were meant to shine! Tooth enamel's polished translucence, framed by the dentin layer beneath it, has a way of vibrantly catching the light when you smile. But tooth wear and structural changes as you age can dim that shine. Add to that staining caused by foods and beverages or disease and your smile could further lose its luster.
On your supermarket or pharmacy oral hygiene aisle you'll find dozens of products promising to restore that lost luster, including toothpastes, whitening kits or even chewing gum. While such products work to some degree, our dental office may have the right solution for you: a safe and effective treatment for whitening teeth.
Why see us for teeth whitening? For one, professional whitening solutions contain a higher concentration of bleaching agent (usually 35-45% hydrogen peroxide) than home kits. We usually apply it in a gel form directly to the teeth while using barrier devices like dams to protect the lips and other soft tissue from irritation. We may then apply heat or light to the applied gel to enhance the release of peroxide into your enamel.
This professional procedure can often give you a brighter smile in fewer sessions than a home whitening kit — and it may last longer. What's more, we can control the level of brightness to produce only a subtle change or a dazzling "Hollywood" smile — whatever your preference.
Like a home kit, this procedure bleaches staining on the outer surface of enamel, known as extrinsic staining. But you can also have discoloration deep within a tooth, known as intrinsic staining, caused by a variety of reasons like tetracycline use early in life or complications from a root canal treatment. Home kits or even the professional treatment described above can't whiten intrinsic staining.
For intrinsic staining you'll need a special procedure that places a bleaching agent inside the tooth. Depending on the extent of staining the procedure could require more than one session.
To find out what kind of discoloration you have, visit us for a full examination. We'll then be able to give you your options for putting the shine back in your smile.
If you would like more information on teeth whitening, please contact us or schedule an appointment for a consultation. You can also learn more about this topic by reading the Dear Doctor magazine article "Teeth Whitening."