Posts for tag: oral health
By Orange Sky Dental
March 26, 2018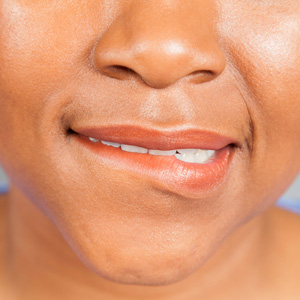 You might not be aware how much force your jaws generate while you eat or chew. But you can become aware in a hurry when part of your inside cheek or lip gets in the way.
What may be even worse than the initial painful bite are the high odds you'll bite the same spot again—and again. That's because of a feature in the skin's healing process.
As a surface wound heals, it often forms a cover of fibrous tissue consisting of the protein collagen. This traumatic fibroma, as it's called, is similar to a protective callous that develops on other areas of damaged skin. In the process, though, it can become "taller" than the surrounding skin surface, which increases the chances of another bite.
This second bite often results in more fibrous tissue formation that rises even higher from the skin surface, which then becomes more likely to be bit again. After repeated cycles, the initial wound can become a noticeable, protruding lump.
These kinds of sores are typically not cancerous, especially if they've appeared to form slowly over time. But they can be a nuisance and the occasion of sharp pain with every subsequent bite. There is, though, an effective way to deal with it—simply have it removed.
While it involves a surgical procedure—an oral surgeon, periodontist or dentist with surgical training usually performs it—it's fairly minor. After numbing the area with a local anesthetic, the dentist will then completely excise the lesion and close the resulting gap in the skin with two or three small sutures (it could also be removed with a laser). The wound should heal within a few days leaving you with a flat, flush skin surface.
The tissue removed is usually then biopsied. Although it's highly unlikely it was more than an annoying sore, it's still common procedure to examine excised tissues for cancer cells. If there appears to be an abnormality, your dentist will then see you to take the next step in your treatment.
More than likely, though, what you experienced was a fibroma. And with it now a thing of the past, you can chew with confidence knowing it won't be there to get in the way.
If you would like more information on dealing with common mouth sores, please contact us or schedule an appointment for a consultation. You can also learn more about this topic by reading the Dear Doctor article "Common Lumps and Bumps in the Mouth."
By Orange Sky Dental
December 10, 2017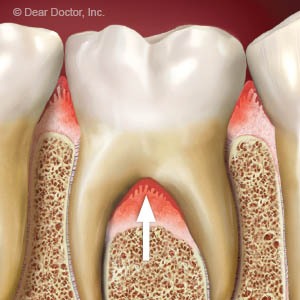 Periodontal (gum) disease causes more than simple gum swelling—this bacterial infection can harm and destroy your teeth's supporting structures, including the bone. Its aggressiveness sometimes requires equally aggressive treatment.
Gum disease usually begins with dental plaque, a thin film of bacteria and food particles on tooth and gum surfaces. Without proper oral hygiene plaque builds up with large populations of bacteria that can trigger an infection.
The growth of this disease is often "silent," meaning it may initially show no symptoms. If it does, it will normally be reddened, swollen and/or bleeding gums, and sometimes pain. A loose tooth is often a late sign the disease has severely damaged the gum ligaments and supporting bone, making tooth loss a distinct possibility.
If you're diagnosed with gum disease, there is one primary treatment strategy—remove all detected plaque and calculus (tartar) from tooth and gum surfaces. This can take several sessions because as the gums begin responding to treatment and are less inflamed, more plaque and calculus may be discovered.
Plaque removal can involve various techniques depending on the depth of the infection within the gums. For surfaces above or just below the gum line, we often use a technique called scaling: manually removing plaque and calculus with specialized instruments called scalers. If the infection has progressed well below the gum line we may also use root planing, a technique for "shaving" plaque from root surfaces.
Once infection reaches these deeper levels it's often difficult to access. Getting to it may require a surgical procedure known as flap surgery. We make incisions in the gums to form what looks like the flap of an envelope. By retracting this "flap" we can then access the root area of the tooth. After thoroughly cleansing the area of infection, we can do regenerative procedures to regain lost attachment. Then we suture the flap of gum tissue back into place.
Whatever its stage of development, it's important to begin treatment of gum disease as soon as it's detected. The earlier we can arrest its spread, the less likely we'll need to employ these more invasive procedures. If you see any signs of gum disease as mentioned before, contact us as soon as possible for a full examination.
If you would like more information on preventing and treating gum disease, please contact us or schedule an appointment for a consultation. You can also learn more about this topic by reading the Dear Doctor magazine article "Treating Difficult Areas of Periodontal Disease."
By Orange Sky Dental
September 26, 2017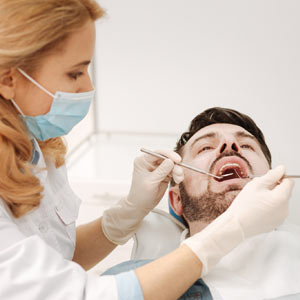 Cancer treatment can consume all of your focus to the exclusion of other health issues. But these other issues still need attention, especially how treating cancer could affect other parts of your body. That definitely includes your teeth and gums.
Treatments like radiation or chemotherapy eradicate cancer cells disrupting their growth. Unfortunately, they may do the same to benign cells — "collateral damage," so to speak. This could cause a ripple effect throughout the body, including in the mouth. Radiation, for example, could damage the salivary glands and result in reduced salivary flow. Because saliva neutralizes acid and diminishes bacterial growth, your risk for tooth decay as well as periodontal (gum) disease could increase.
While you may be able to recover from reduced salivary flow after treatment, your health could suffer in the meantime, even to the point of tooth and bone loss. Fortunately, there are some things we can do before and during your treatment.
If you can, have any necessary dental work performed well before you begin cancer treatment. You'll be more resistant to side effects if you can start treatment with as healthy a mouth as possible.
Keep up your regular dental visits if at all possible, or see us if you begin seeing signs of dental disease. By staying on schedule, we'll have a better chance of detecting and treating problems before they advance too far; we may also be able to provide preventive measures like topical fluoride applications to help keep your teeth resistant to disease. If you need more extensive treatment like tooth extraction or surgery we may need to coordinate with your cancer treatment provider.
Above all, continue to practice daily brushing and flossing to remove plaque, the main cause of dental disease. Drink plenty of water or take substances that boost salivation. And be sure to eat a nutritious diet while also reducing or eliminating tobacco or alcohol from your lifestyle.
Taking these steps will help protect your teeth and gums during cancer treatment. As a result, you have a better chance for maintaining your dental health during this critical time in your life.
If you would like more information on dental care during cancer treatment, please contact us or schedule an appointment for a consultation. You can also learn more about this topic by reading the Dear Doctor magazine article "Oral Health During Cancer Treatment."